The trip of my DREAMS!
I am not sure if I can honestly fit all this in one post! Also a part of me doesn't even know where to start! It was the most amazing thing that someone has ever done for me! Lets start back in June. My husband decided to put some $$ away and I kept pressuring him to tell me what was going on and what he was putting the money aside for. The way that I found out that we were doing a vacation somewhere is, I was at work and I was notified on our scheduling system that my "time-off" was approved! To me I was like "what? Time off? I don't remember asking for time off.." I took a look into it and it was for a week in September! The week of our Anniversary. For those of you who don't know, Carlos and I work together. We have worked at an awesome startup for about a year and a half! Anyway, at that point I still didn't know where we were going.. Carlos has been known to always plan secrets and surprise me with things and he's so good at keeping a secret! Fast forward to a few weeks before we were leaving with me still no idea where we are going and he wouldn't confirm or deny this "trip". We were sitting on our couch one night and he texts me a picture of a beach, no words just the beach. (Our entire relationship he has always talked about taking me to Kauai) I loved how beautiful the beach was and asked him if this is where we were going and for whatever reason I decided to just google the word "Kauai" and the same exact picture was on the internet under KAUAI that Carlos had just sent me!!! The rest was history!
The Hotel
The hotel that we stayed at was absolutely beautiful! The pools they had to the room all the way to the short walk and we were on the beach! We stayed at the Kauai Beach Resort. I was happy to stay on an island that was a bit more "quiet" and I was able to relax for an entire week on a beach! I think my favorite part of the resort was we stayed in the back building and right outside was the beach. We would walk out there in the morning when we couldn't sleep due to jet lag/ excitement that we were actually in KAUAI! You can check out the resort here :)
The Outfits
Shopping for Kauai was probably half the fun! I was so excited to stock up on summer dresses and have a few more swimsuits in my arsenal! I was trying to find as many summer dresses and rompers that I could and I probably did all this like 2 months in advance. I didn't even end up wearing a lot of what I brought because we were just lounging the whole time and relaxing by the beach or pool.
THINGS YOU HAVE TO DO IF YOU VISIT KAUAI
Excursions... There were so many people telling me that I have to do this while I am there or do that! So Here is what we ended up doing and what we had the time for!
1. The first thing that we ended up doing was going on a hike. There is a trail that the locals had told to us about hiking down to see natural waterfalls that fall into this private secluded area where you can swim and just hang out. I love hiking, even though I rarely do it! I was super excited! I brought my hiking shoes and every thing. I was thinking that maybe we would be on a trail or something.. NO. The beginning of this hike was straight down. You had to climb under branches and big limbs of the tree and hold on to the roots so that you didn't fall. Locals had put rope going down to help as well. But it was really muddy so it was a little sketchy. But overall it was super great! I had a blast! Carlos ended up being super sore the next day. But it was worth it because it was so so beautiful! You can click HERE for the map to see where its at and find more information about it too!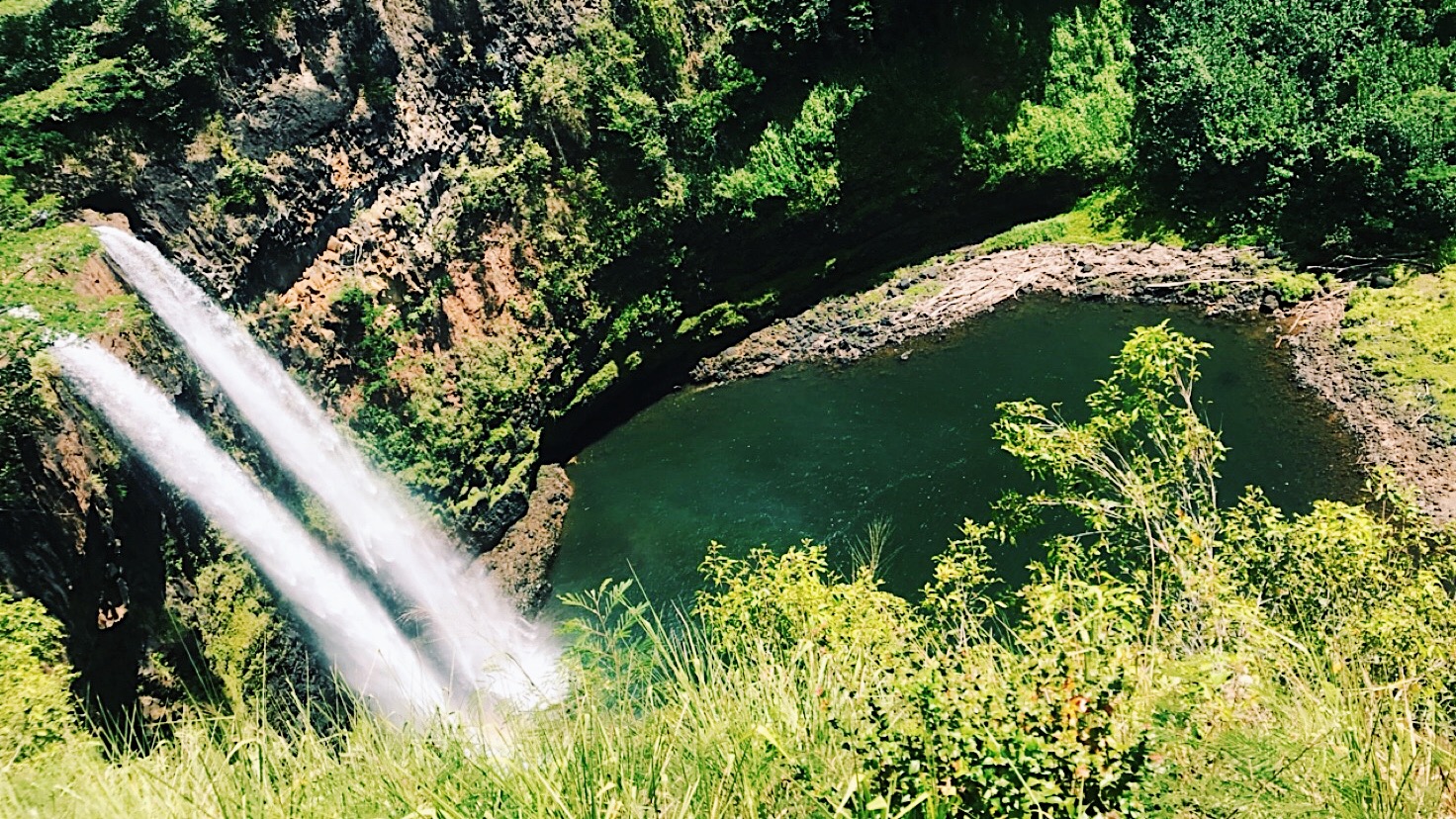 2. The second thing that we were able to do was go tubing in the old Sugar Cane Canal! This one was a little less adventurous. It was not like raging waters, but just to go through all the tunnels was pretty awesome to see! We went through about 5 tunnels and we wore hard hats that had lights on them and the last tunnel they had us turn off the lights for. It was pretty scary because it was pitch black sitting on a tube floating on water. The total time that we were floating down the canals was only about 45 mins. So if you have 45 minutes on your trip to Kauai you can learn a little bit about their culture and just see some really really awesome views when you get to the top of the mountain!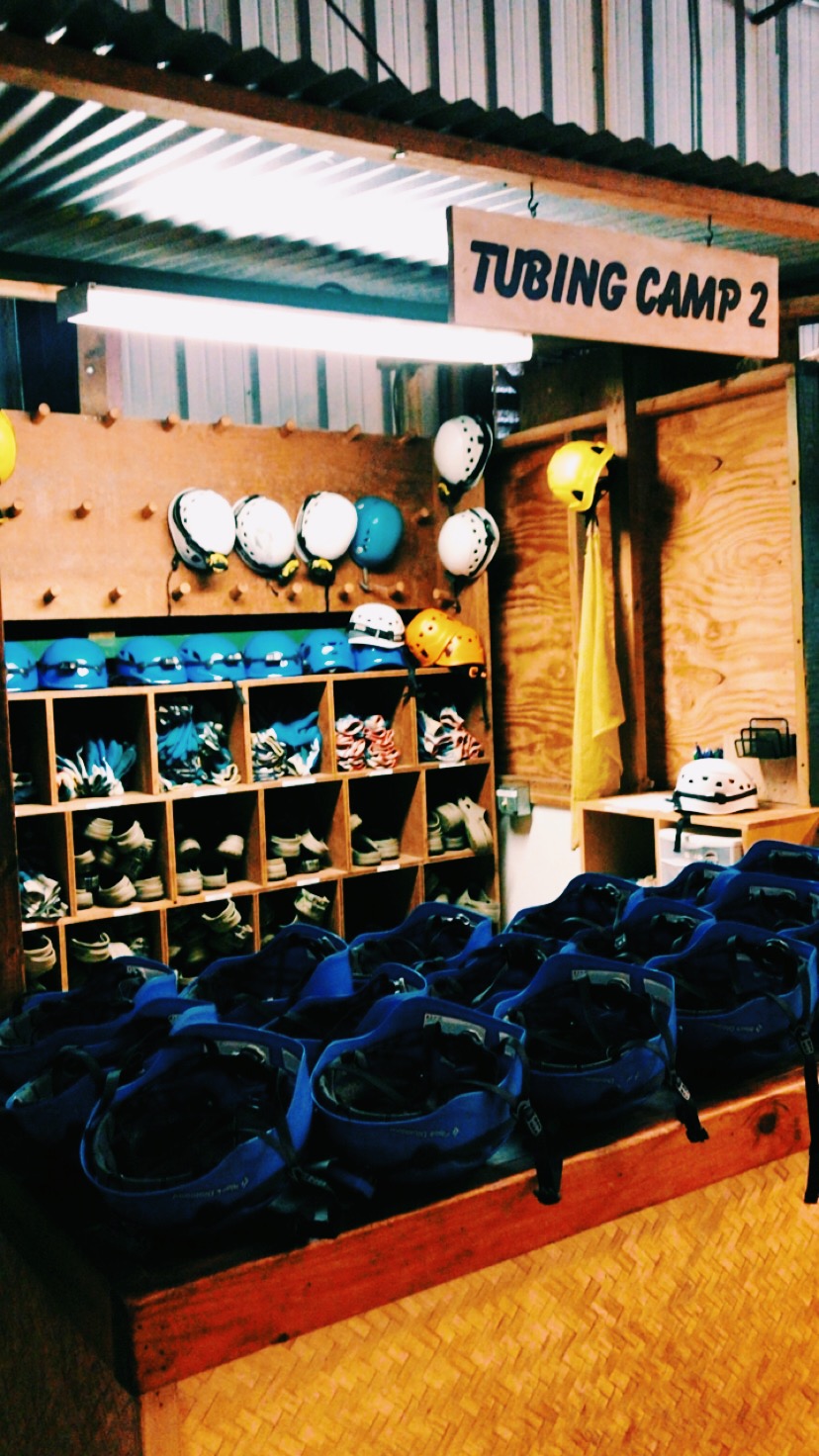 3. Last but not least and my favorite adventure we did on the trip. We went Snorkeling on the BEAUTIFUL Na Pali Coast! I highly recommend that you go with the company called Go Blue Adventures. Ask for our Captains: J-Sea and Duke! They were amazing and made the day so fun! The boat that we went on was an old Navy sea boat! It was so awesome! We were able to go in to some caves with the boat and see parts of the island that you can only get to by hiking or if you fly over in a helicopter. I have only been snorkeling once in my life and I was pretty young but I do remember stepping on Vana (Sea Urchin) and the stingers got stuck in my foot. So this time around I was a little scared to say the least. HOWEVER, this was the BEST EXPERIENCE of my LIFE!!!!! Go Blue Adventures definitely curved my fear of snorkeling. Although, I did scream underwater when I saw a turtle AND when Captain J-Sea and Duke were throwing pineapple near me in the water causing all the fish to swim very closely. For anyone who doesn't know me... I can't stand when fish touch me in the water. Again, I highly recommend this for anyone who wants to go snorkling!
A little something extra <3
Here are some extra pictures of adventures that we did and some places that we were able to eat at! I can't wait to visit this island again it was the most amazing experience I have ever had!